Uruguay v South Korea: World Cup 2022 – live | World Cup 2022
November 24, 2022
Key events
Embolo was born in Yaoundé; what a moment his goal was.
Looking at the South Korea XI, the presence in it of Son is obviously the big story. Because his injury was facial, he should be able to get going more easily than had it been muscular. I'm also looking forward to seeing how Inbeom gets on – he plays for Olympiakos and at 26, should be hitting this competition at exactly the right time.
Cameroon will be rueing the chances they missed in the first half of that one. With Serbia then Brazil next, they're in a lot of trouble.
Here's one we made earlier:
Who expected Federico Valverde to get this good this fast? Not me, I must confess, but he arrives at this World Cup in frankly revolting form, which I guess is an interesting wrinkle of a mid-season tournament. I also fancy Darwin Nunez to do something here – though his touch and finishing can trend towards the avant-garde, he has the priceless ability to both make things happen and arrive on the scene as they're happening, so tournament football should suit him. Otherwise, Facundo Pellistri, who's struggled to get a game at either Man United or Alavés, starts, which makes sense: if you 're playing two strikers, you need at least one winger, and he has the ability to go either way.
Tangentially, to continue on an Atléti tip, Álvaro Morata scoring the seventh goal in a 7-0 win is one of my moments of the World Cup so far. I maintain my theory that Diego Simeone only bought him to ensure he maintained a suitable level of incandescence through every training session.
Taking a closer look at the teams, it's worth noting that Ronaldo Araújo is unavailable for Uruguay. I doubt he'd have played – Godin and Gimenez are too well ensconced and know each other too well – but I'd bet he's better than at least the former, much as enjoy his old skool, face-first style of defending.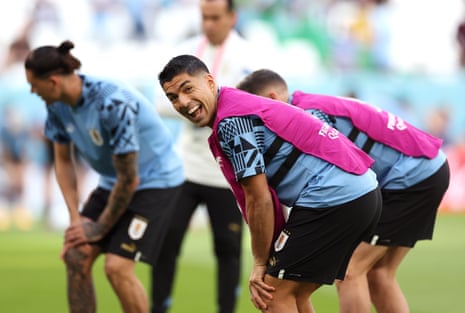 Update following yesterday's Yellow Car Dead Arm controversies: Green Car Hair Skriffle has been extremely warmly received by the youngest Harris. I've yet to try it on the middle Harris but you'll be able to tell when I have by my eternal absence from blogs such as this.
Only 15 minutes of telly buildup before this one; pah. How do you squeeze in 42 "from the England camp" and 27 "from the Wales camp" reports into so little time? On which point, including today, we've only five quadruple-game Tetris days left. Make the most of them, people.
Uruguay (4-4-2): Rochet; Cáceres, Godín, Giménez, Olivera; Valverde, Vecino, Bentancur, Pellistri; Núñez, Suárez. Subs: Muslera, Sosa, Coates, Varela, Viña, Rodríguez, Ugarte, Torreira, Canobbio, De La Cruz, Arrascaeta, Torres, Gómez, Cavani.
South Korea (4-3-3): Kim Seunggyu; Kim Mooonhwan, Kim Minjae, Kim Younggwon, Kim Jinsu; Jung Wooyoung, Hwang Inbeom, Lee Jaesung; Son Heungmin, Hwang Uijo, Na Sangho. Subs: Song Bumkeun, Jo Hyeonwoo, Yoon Jonggyu, Paik Seungho, Cho Guesung, Hwang Heechan, Son Junho, Hong Chul, Lee Kangin, Kwon Kyungwon, Kwon Changhoon, Kim Taehwan, Cho Yumin, Jeong Wooyeong, Song Minkyu.
Referee: Clément Turpin (France)
It'd take a particular kind of silliness to term as dark horses a country that has won the World Cup twice, made the last eight, the last 16 and the last four in the previous three tournaments, and been champions of South America 15 times. But Uruguay start this competition as outsiders, despite a pedigree rooted both in history and the contemporary.
Partly, that reflects the difficult of the group they're in, but even so, the 40-1 at which they were available last evening is unreflective of a squad packed with class and wildness. Boasting José María Giménez at the back, Federico Valverde and Rodrigo Bentancur in midfield, with Darwin Núñez and Luis Suárez up front, Uruguay are absolutely not to be trifled with.
Nor, though are South Korea. Son Heung-min is fit – though perhaps not match fit – while Jeong Woo-Yeong's Freiburg have made a fine start to the Bundesliga season. That gives them a decent goal-threat while, in midfield and defence, they've the solidity and security of players who've been together a long time.
Which to say that the Group of Death is go!
Kick-off: 4pm local, 1pm GMT